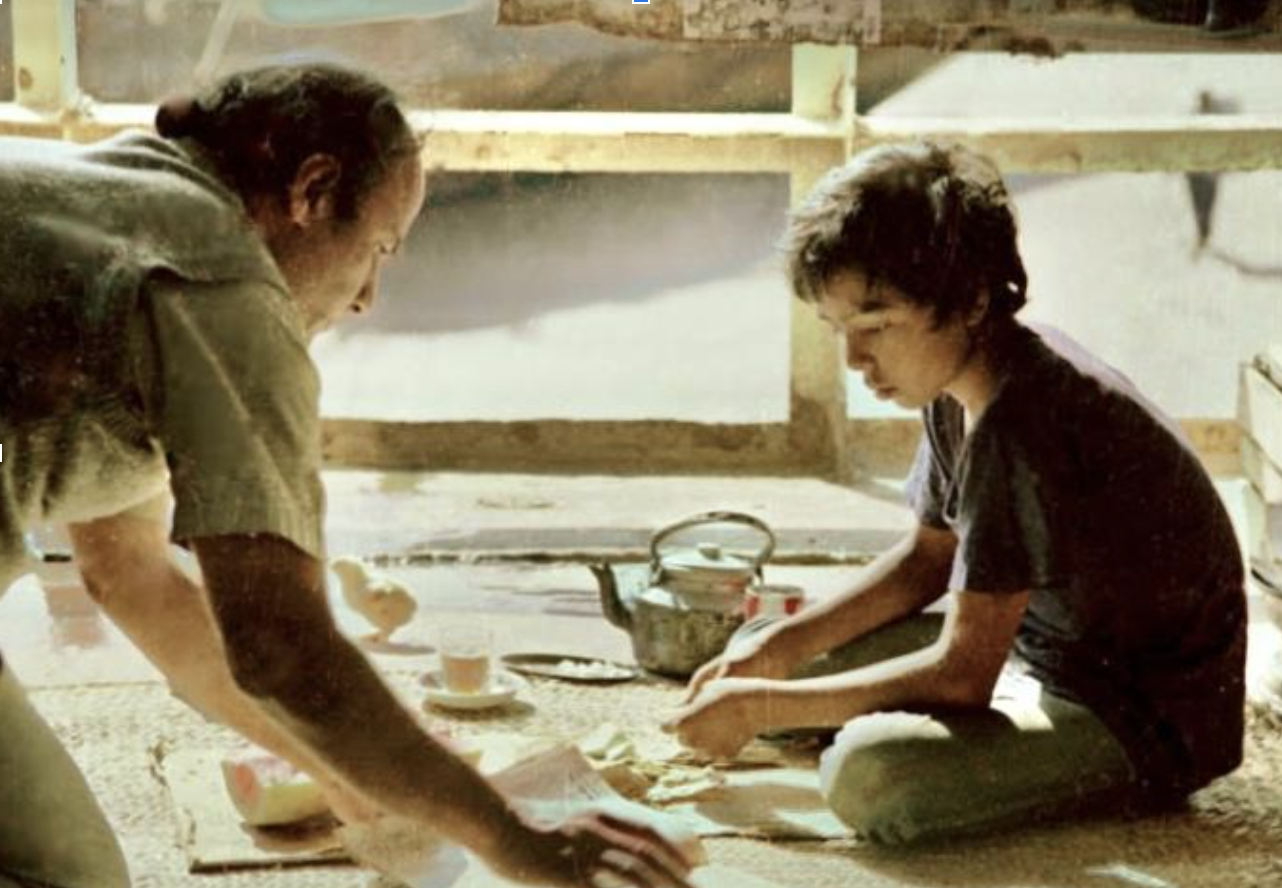 Global Cinema: Amir Naderi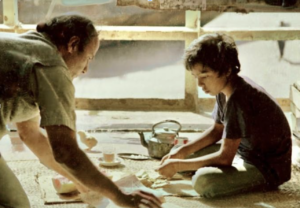 Amir Naderi and Madjid Niroumand on the set of THE RUNNER
Amir Naderi, director and screenwriter of the acclaimed recently restored film, The Runner, which will play in our second annual Festival of Preservation, was born in the Iranian port city of Abadan. He began his filmmaking career in the 1970s, producing several films, including The Runner, before he moved to New York, never to return to Iran. 
He has since split his time between Tokyo and Los Angeles, where he is currently working on his next films. As one of the leading names of Iranian cinema, Naderi's semi-autobiographical work has more often been compared to Italian Neorealist films, highlighting individualism and childhood wonder in unlikely places. His work has won at Cannes, Venice Film Festival, Tribeca, and in Japan. Like his friend and peer, the late Abba Kiarostami, his filmwork transcends geographical and cultural boundaries, which has led to institutions such as the Museum of Modern Art and the Centre Pompidou in France honoring him with career retrospectives, which our very own Founding Artistic Director, Giulia D'Agnolo Vallan wrote about for the Italian publication il manifesto.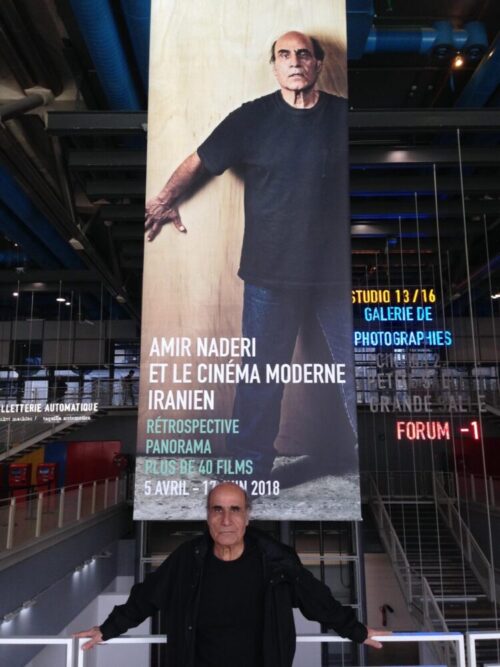 Amir Naderi at Centre Pompidou in Paris
Hamid Dabashi writes that Naderi's work is representative of Iranian Cinema's growing global appeal in an article for Al Jazeera from March 2018:
Naderi left his homeland and came to live and work in New York in the early 1980s, but his cinema did not become "American" or "postnational" after this move. His cinema became purer, more sublime, to the point that he has now completely shed the modicum of narrative storytelling his cinema ever had. It has now reached the zenith of the clean, visceral, undiluted visual realism that has always been definitive to his cinema, which has always thrived on a glorious mute visuality – where no words compromise the vision.

Naderi's cinema has always been unburdened with excessive loyalty to storyline. He is a minimalist storyteller. He has now become the quintessence of his own metaphoric cinema. 

Much is, of course, biographical in Naderi's cinema, particularly his masterpiece, The Runner. But the question is what he does with his biography. 

Few artists around the globe have managed to overcome the bizarre and ridiculous accident of their birth and upbringing and show the world what they have seen. Rooted as they are in their homeland, they spread their branches and blossoms in a world of their own, which we cannot but sit down politely to learn, admiringly to love, patiently to own.

Yes, Naderi is an Iranian filmmaker. But in his cinema, he brought the world to his homeland, and in the very same cinema, he brought his homeland to a full worldly recognition – all in pure, beautiful allegory of what it means to be human – all too frightfully, solitarily, human.
You can read the full article here.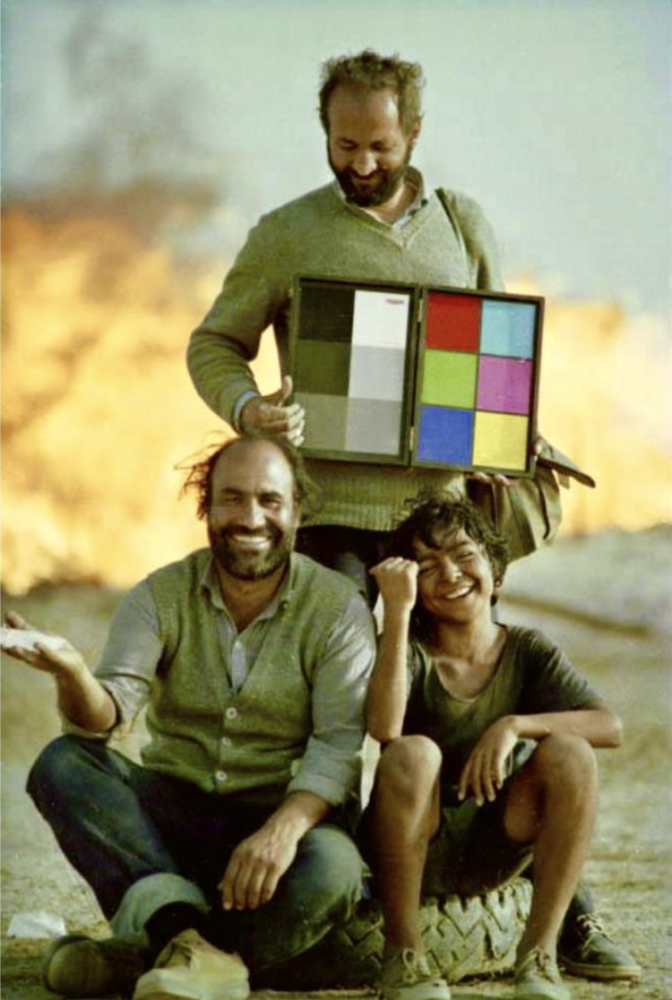 Amir Naderi, Madjid Niroumandi, and Firooz Malekzadeh (Director of Photography) onset of THE RUNNER
With Rialto's re-release of The Runner, J. Hoberman writes that the film is a gem of the Iranian New Wave in his "rewind" review for the New York Times: 
"The Runner" is admirably lean and remarkably well-constructed. The sound design is deliberate. The camera placement, often at Amiro's height, is precise. The editing is inventive. Shot during the Iraq-Iran war, it was impossible to film in Naderi's hometown, the southern port Abadan; instead "The Runner" seamlessly cobbles together locations from nearly a dozen cities. (Naderi has cited Orson Welles's geographic patchwork "Othello" as a precedent.)

While acknowledging that every object in Amiro's world has its price, "The Runner" has a subtle fairy-tale quality. Amiro lives alone on a deserted tanker. Politics and religion are absent — as are women (perhaps a post-revolution expedience). A commitment to individual freedom seems absolute.
The full review is available online, here. 
The 2022 review also references the New York Times' original review from 1991 by Stephen Holden. Below is an excerpt comparing the film to classics of Italian Neorealism:
"The Runner," which has been compared with Vittorio De Sica's "Shoeshine," Francois Truffaut's "400 Blows" and Hector Babenco's "Pixote," takes its title from a ritual that is another recurrent motif. Early in the film, Amiro falls in with a pack of slightly older boys who, despite the sweltering heat, like to run races on the railroad tracks, sometimes chasing freight trains that speed away just out of reach. These increasingly frantic and surreal contests become the film's central metaphor for the survival instinct and for a driving life force that one is fairly certain will sustain Amiro despite his disadvantages. In fact, the film, which was written by Mr. Naderi and Behruz Gharibpour, was inspired by the director's childhood experiences.
The full review is available in the New York Times archive, here.
Poster by Keiko Kimura for Rialto Pictures